With the wedding season around the corner, Colors has just released coveted new men's prince coat designs in their outlets. Those days are gone when the brides had endless wedding wear designs while on the other hand grooms' options were sparse. Prince coats commonly known as waistcoats are highlights of the modern groom's wedding wear line.
We have a quintessential and uber-stylish range of prince coats with pants that will help you slay your D-day with grace. From unconventional designs,  colors and silhouettes, your wedding look will definitely be Insta-worthy. We would go as far as to say,  you may steal the bride's thunder with your sophisticated outfit pick from our highly coveted prince coat varieties in store. In this blog, we will take you through some of the most popular trends of prince coats and the best way to accessorize them for all occasions. 
How to style your designer wedding wear for an uber-chic look
Prince coats for a traditional and modern look
There are two ways prince coats for men can be worn. Firstly, a traditional way is to pair a prince coat with shalwar kameez. The best occasion that can be worn with shalwar kameez is the Nikah ceremony or Barat. In-store, you will also find simple and plain shalwar kameez for men that are perfect for Eid and daily wear. We have the finest materials that are not only comfortable but also look elegant. Jamawar,  cotton, linen, silk, khaddar, and poly-cotton are some of the options that you can pick according to the weather and the time of the event. The second way prince coats can be attired is with suits and pants.  This look is worn for events such as receptions and formal dinners. Here are some of the latest and most graceful prince coats for groom and for receptions.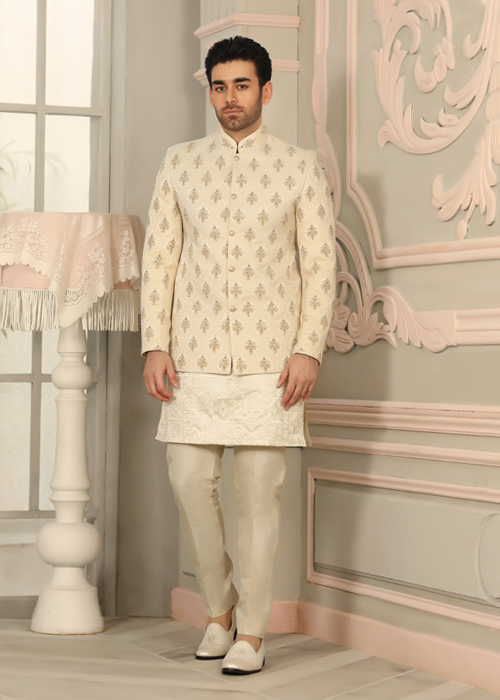 How to dress for your personality
Personalities are one of the top considerations that our designers keep in mind when designing wedding collections for men. A mood board is created just like an interior designer does, who create mood boards according to a theme. Likewise, our designers also create a mood board in the designing phase where details such as colors, fabric, and craftsmanship intricate work are carefully selected to make each outfit unique. For men with bold and confident personalities, you will find prince coats with quirky motifs and silhouettes.
Tie-dyed prince coats for weddings are perfect for daytime events that can be worn over a  simple white or black shalwar kameez. Grooms that are introverts prefer attires that are subtle and  Colors have a wide range of prince coats and shalwar kameez in subtle colors. Below we have picked out some of our latest designs in-store that you can choose according to your personality. 
Oomph up your wedding wear with embellished and patterned designs
For our grooms, we take all our guns out and designed some of the quirkiest prince coats with kurta pajamas and pants that are runway favorites. You can ditch heavy zardozi work and choose mirror work,  sequins, or subtle embroidery design embellishments that are suitable for weddings and pre-wedding events.
For daytime ceremonies, you can choose a checkered pattern prince coat with pants and pair it with a waistcoat inside for an utterly chic look. Soft pastels over ivory color are hugely popular these days for daytime weddings that are available in many colors that can be easily matched with the bride's lehenga. 
Experiment with some harmless silhouettes to stand out
If you have a flamboyant festival around the corner such as Mehndi or Qawwali night, you may want to experiment with something unconventional and funky. Try out different silhouettes from our collection that have uneven hemlines, buoyant patterns, and bold colors that will look effortlessly charming. 
Do the right bling
Lastly, after you have decided on the perfect outfit for your big day, it is time to accessorize to complete the look. Nowadays you can find an exclusive variety of shoes ranging from embellished sandals, lace-up formal oxfords, loafers, juttis with threadwork, and Peshawaris. To finish off, you can add color with a  pattern or plain pocket square and some classic sunglasses for an utterly classic groom's look that will look elegant in wedding photography. 
Weddings and festivities are memorable milestones in one's life. In order to have a seamless and joyous event, you can leave your wardrobe affairs by trusting our brand's designers to fulfill your clothing  needs. Don't forget to drop by our store for a customized groom's outfit for your grand wedding and meanwhile, you can browse our e-store for a sneak peek of our latest prince coat and shalwar kameez collection.